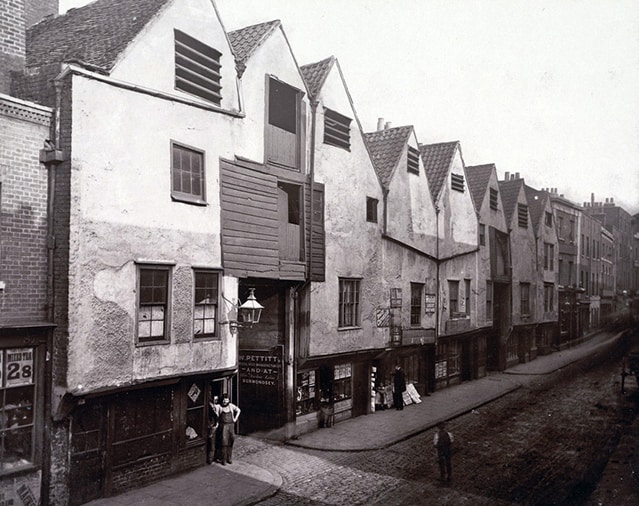 This is probably the most famous photograph taken of Bermondsey Street during Victorian times and many people have wondered where exactly in the street it is. The most commonly held view I have heard, is that it was likely to be close to Tyers Gate, pointing north up towards Tooley Street. My own research however, shows that it is, in fact, facing south.
It must have been taken during the late morning. The buildings are bathed in sunshine, so the sun must have been in the west. The angle suggests that the camera was pointing out from a first floor window at the corner of Lamb Alley (now Lamb Walk).
In 2015, The British Library attributed the photo to Alfred Henry Bool. Bool ran a photographic studio at 86 Warwick Street, Pimlico, Westminster and in 1871 he became a member of the Photographic Society (later The Royal Photographic Society). Various census records describe him as a photographer, artist, a 'teacher of painting' and a photo colourist.
Wind forward three years and I find that the Royal Academy of Arts attribute the photo to Bool's colleague, Henry Dixon. The two of them certainly worked together and we do know that this photo was taken in about 1881. Henry Dixon had his own studio first in Bayswater and then in Albany Street between 1864 and 1886. Dixon and Bool were commissioned by the Society for Photographing Relics of Old London as part of a project to make a photographic record of historic buildings in London threatened with demolition.
The Bermondsey Street photo captures two leatherworkers peering out from a doorway while a little girl looks out from the entrance of another shop. A gentleman in a top hat (probably her father) stands close by. Photography was less common in those times and this ordinary moment in time of people going about their daily business is fascinating to see. Clearly, it wasn't particularly busy that day.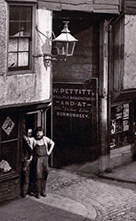 Helpfully, we can see the name W Pettitt on the gates of the entrance leading through to a backyard. William Thomas Pettitt was a wool rug manufacturer who had premises at 89 Bermondsey Street and also at Blue Anchor Lane, Bermondsey. Looking at the 1894 Godfrey Edition of the Bermondsey and Wapping Ordnance Survey map (London Sheet 77), we are able to find the Bermondsey Street address listed two doors up from Medley Place (now gone) and several doors down from Bell Place (now Bell Yard Mews).
Alfred Bool wrote a book, The art of photographic painting, published by London, Piper & Carter, in 1887, with a 2nd edition following in 1891. The second edition includes an extra chapter on photographic lantern slide painting. Alfred Bool also ran a laundry at 115 Harwood Road, Walham Green, Fulham in the late 1880s.
My own print also looks south towards St Mary Magdalen, shows an altogether colder moment, captured in 2013 from the junction of Tanner Street 123 years later.