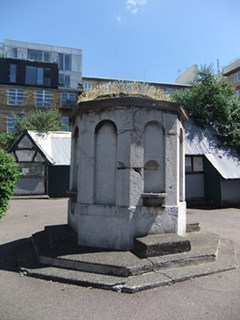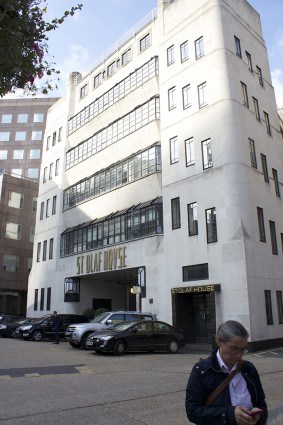 The black and gold mosaic of St Olaf by British artist and sculptor Frank Dobson, seen on the left side of the St Olaf House in Tooley Street, pays homage to the Norweigan King, Olaf II Haraldsson. Olaf came to London in the early 11th century – a Prince and ally of King Ethelred the Unready, with whom he fought against the Danes. Frank Dobson also designed the 39 Doulton faience panels entitled 'Capital, Labour and Commerce', depicting dockside scenes, which can be seen on the riverside of the building.
Using Dobson's design as a starting point, I have created two variations using a single-colour theme. The versions below are printed on reverse plastic. The simple black frames have no back, allowing the light to shine through, illuminating each picture.
Southwark Cathedral recently purchased editions of the St Olaf prints and presented them to representatives of Rouen, Bergen and Trondheim Cathedrals during Southwark's visit to Rouen on the weekend of 16th-19th October 2014 – held to celebrate the 1000th anniversary of St Olaf's baptism.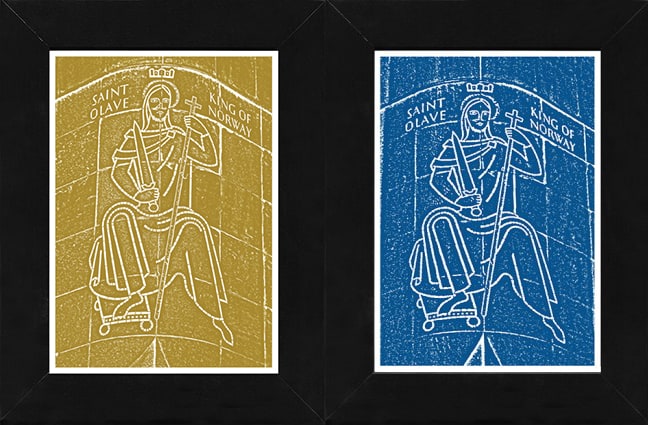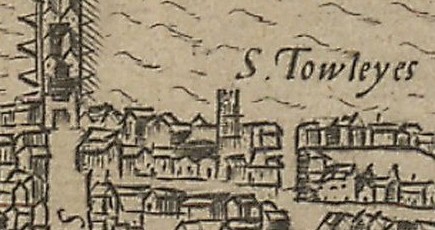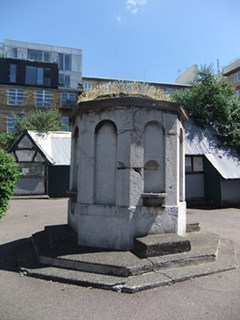 St Olaf House, designed by Harry Stuart Goodhart-Rendel, has a particular resonance with me. It was built on the site of the former St Olave's Church (seen here pictured in John Norden's map of 1593), which first burnt down in a fire in 1843.
The church was rebuilt and continued as a place of worship serving the Docklands community. However, the church became less used as the area became increasingly industrialised. Eventually, in 1926 it was declared redundant, and the land was sold to the Hays Wharf Company. The proceeds funded "Bermondsey Playground" (now known as Tanner Street Park), which opened in 1929 on the site of the old Bermondsey Workhouse in Tanner Street.
A section of St Olave's Church church tower was relocated in the park and converted into a drinking fountain, although most experts doubt that it was ever connected to a water source.