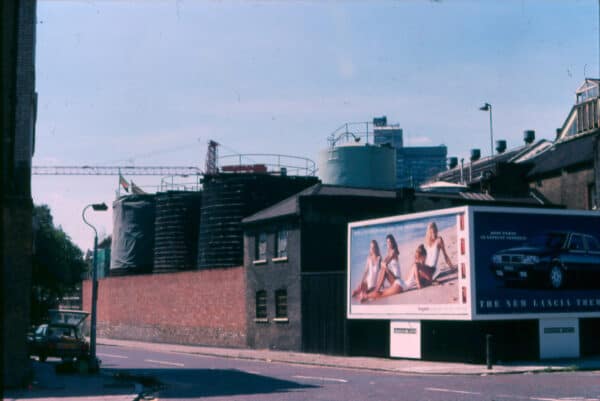 This is the third part of my look into the history of Tanner Street in Bermondsey, which has been known by three names over the past 500 years: Five Foot Lane, Russell Street and Tanner Street.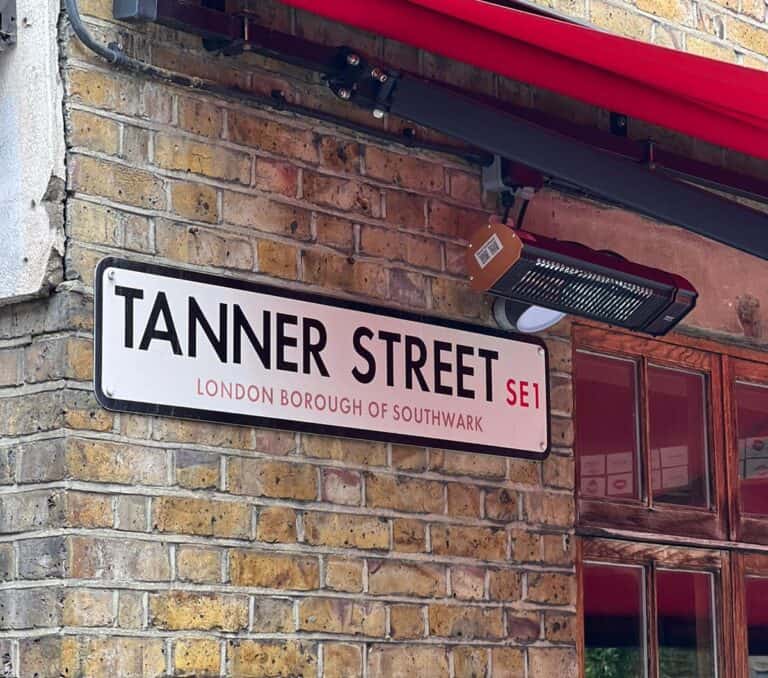 Bermondsey Parish Council renamed some roads to reflect the area's industry, and Russell Street became Tanner Street in 1881. Upper Russell Street was renamed Morocco Street in 1897, whilst Market Street became Leathermarket Street in 1898.
At the turn of the 19th century, Tanner Street saw a significant change. Tower Bridge Road, connecting Tower Bridge and Bermondsey New Road, opened in 1902, splitting Tanner Street and other local roads in two on its way. The new road bypassed St Mary Magdalen Churchyard but involved the compulsory purchase and demolition of 150 properties. 
A bridge spanning Tower Bridge Road at the cost of £49,000 (equivalent to £4,500,000 in 2021) replaced railway arches at this spot.
In 1922, Bermondsey Workhouse in Tanner Street finally closed and was advertised for sale with an asking price of £40,000 (equivalent to £1,587000 in 2021). The site of St Olave's Church in nearby Tooley Street was sold to Hay's Wharf Company in 1926, which provided funds to demolish the workhouse site and create a new public park for the area, which opened in 1929. The park was further expanded in 1961 with a new frontage on Bermondsey Street.
In the 1930s, plans by Bermondsey Borough Council to clear slums and deal with chronic overcrowding developed a pace. This included demolishing seven properties housing 40 inhabitants between Hatchers (see more below) and Brunswick Court. Tanner House, a stand-alone block of 26 flats and a shop, was completed on the site in 1936. The shop operated as a wet fish shop and as a barber at various times before being converted into a community centre for the local tenants' association.
One of the best-known companies in Bermondsey was Hatchers which started in the 1800s and had its main premises at 9 Tanner Street. Expansion during the 19th century led them to take additional lorry parking on a bomb site in Whites Grounds, stables at 249 Long Lane and an extra yard and stables on Bermondsey Street (now Hatcher Mews).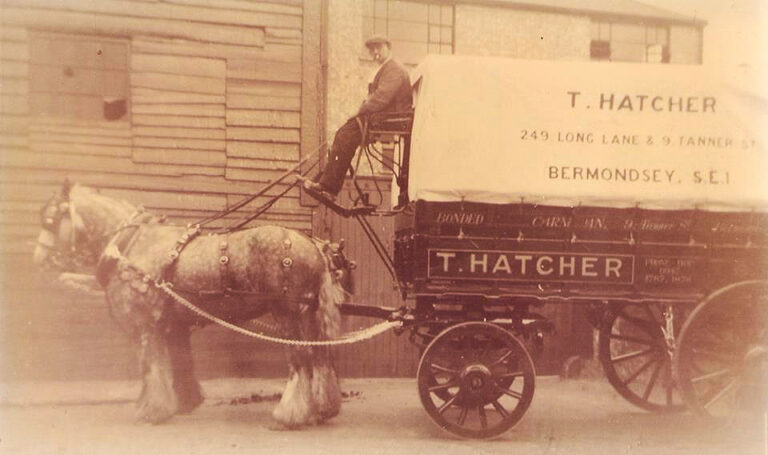 Another business on Tanner Street was S.O. Rowe and Sons, the last working tannery in London, making shoes until 1997. On the opposite side of the road was Sarsons Vinegar Factory. Vinegar works had occupied the site since 1794, and it became a prominent landmark seen from the railway. Locals living at Tanner House joked that if you had fish and chips for tea, you only needed to stand on the balcony and sniff the air; there was no need to buy any Sarson's vinegar! Sarsons finally closed in 1992 and has since been converted into offices and flats. 
The Dockhead end of Tanner Street was featured in the film The Boy and the Bridge, released in 1959. Produced and directed by Kevin McClory, it starred Ian Maclaine, Liam Redmond, James Hayter, Geoffrey Keen, and a young Arthur Lowe. More recently, in the 2010s, several television programmes were filmed at 47 Tanner Street, including Dragon's Den and The Great British Sewing Bee.
Dobson's Bakery and other businesses at the junction of Tanner Street and Bermondsey Street were demolished in the 1970s. After a period of dereliction, the local community secured the land for a gated pocket park and added a mural depicting the area's history to the side of No 4 Tanner Street. This corner site was later incorporated into the main park in 1997.
By the 1980s, the area had seen a considerable decline, with traditional industries closing or moving away, coupled with the closure of the docks. Tanner Street became poorly maintained, with grass growing through the pavements, abandoned cars left for months and broken street lights leaving the area with a distinct feeling of abandonment. 
In 1990, residents at Tanner House started taking over day-to-day maintenance of their block, and a garden club also helped transform the place. Tanner House became a resident cooperative in 1994, and many improvements were implemented during its 17 years of operation.
Separately, in 1989, a group of five local residents launched the Bermondsey Street Association (BSA), with initial meetings taking place in a Victorian flat on Tanner Street. The Association was later renamed the Bermondsey Street Area Partnership (BSAP) before a further change of name to BermondseyStreet.London in 2018. The BSAP launched the Bermondsey Street Festival in 2009, which has since branched off, becoming a separately run organisation.
Sources: Opening of Tower Bridge Approach, 8 March 1902
Further reading
Five Foot Lane, Bermondsey
Russell Street, Bermondsey