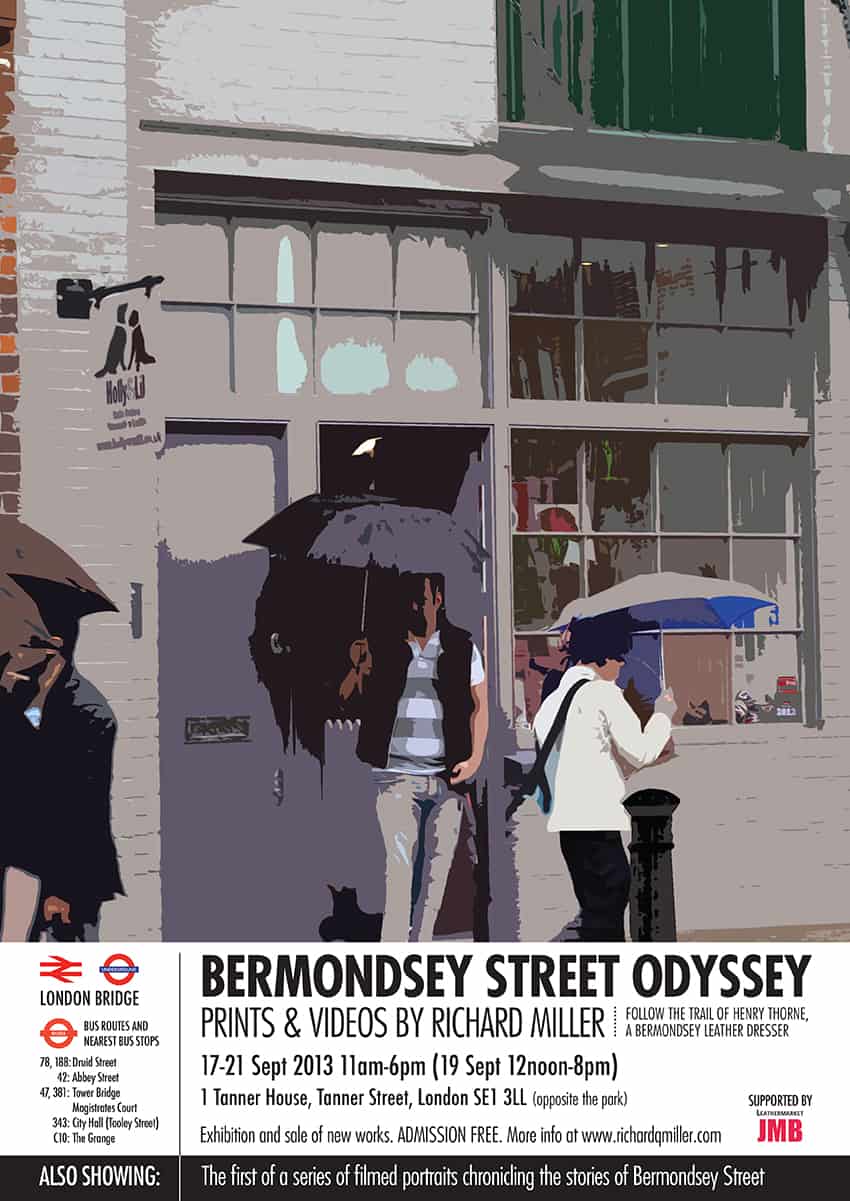 Running from 17-21st September 2013, the exhibition includes prints from 2012-13, videos of the area from 1988-89 together, with some historical background stretching back several generations. A Bermondsey Street Odyssey spanning nearly 200 years.
In 2011, I came across an old photo of Bermondsey Street taken by Alfred Henry Bool in 1880, which proved to be the inspiration for this project. For some time, I'd wanted to do something about Bermondsey Street. My ancestors were leather dressers; many lived in the area during the 19th century. If Bool's photo had just been of the buildings in Bermondsey Street, then it would have been interesting enough. However, his photo includes two shopkeepers peering out, a little girl in a doorway of another shop, and a gentleman in a top hat close behind. An ordinary moment on Bermondsey Street captures people going about their daily business.
I moved to the area in 1988, and like anyone else who has been around during that time, I have seen a great change. Remembering how different the area can look during the year, I began taking photographs 'capturing life as it passed by', different seasons – whatever the weather.
A few years ago, I would have printed my photos in my dark room. However, in 2013 and making full use of the digital age, I took my images onto my computer. I transformed them over a period of several weeks to produce the prints which have formed the basis of the exhibition.
Bermondsey Street Odyssey 2012 -2013
Prints and videos by Richard Miller
The Leather dresser the story of a Somerset glover, Henry Thorne who moved to Bermondsey in 1852
#55
A film by two local videographers
17 September to 21 September 2013, 11am to 6pm
19 September 12noon to 8pm
1 Tanner House, Tanner Street, London, SE1 3LL (opposite the Tanner Street Park)
Admission free.
Getting there
London Bridge is the nearest station, and the local buses with the nearest bus stop are as follows;
78, 188: Druid Street
42: Abbey Street
47, 381: Tower Bridge Magistrates Court (Jamaica Rd end of Tooley Street)
343: City Hall (Tooley Street)
C10: The Grange