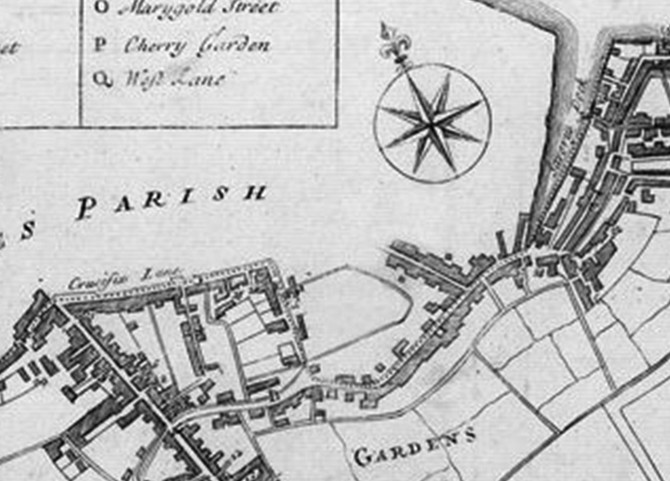 Tanner Street is one of the oldest roads in Bermondsey and can be found on maps long before the leather dressing trade dominated the area. 
Originally known as Five Foot Lane, the earliest recorded reference I have found appears in 1544 on this early map, from the archives of St Olave's Grammar School. The shape of Five Foot Lane seems remarkably similar to modern times, although this map shows that it didn't reach 'Barmondsey Street'. Horseye Downe was an open field surrounded by houses and gardens with a gate at the west end near where Potters Field in Tooley Street is today.
Edward Josselyn Beck's publication, Memorials to Serve for a History of the Parish of St. Mary, Rotherhithe is useful in helping us to understand the origin of the name Five Foot Lane.
The footways are certain approaches to the shore belonging to the parish affording the inhabitants the privilege of landing goods, coal, corn, timber, etc thus saving wharf dues. Some are "five-foot ways" and other "ten-foot ways." 
This section of the Parish of St Mary Magdalen (above) from 1775, shows the full length of Five Foot Lane as it winds towards Dockhead and St Saviours Dock. The logic that Five Foot Lane probably led to the 'five-foot way' at Jones' Wharf, Dockhead, seems compelling. We can also see extensive gardens to the south. Much of the land in Bermondsey was low lying so would have suffered from regular flooding and this could be a contributory factor in the usage of this area.
The map below, from 1790, whilst not to OS standards, suggests that Five Foot Lane began at Roper Lane and met with Horsleydown Fair Street before joining Dockhead at St Saviour's Wharf. Roper Lane seems to follow the line of modern day Whites Grounds. Today, the remaining section of Roper Lane runs in front of the Maltings Building (Sarson's Vinegar Factory) on Tower Bridge Road to Druid Street, so this particular map leaves us somewhat unclear as to how the road network developed.
You'll also notice from this map, that Bermondsey Street was known as 'Barnaby Street', which seems rather odd to the modern eye. I have found no evidence to explain this name and it may well have simply been a corruption of Bermondsey Street during this time.
The parish of St Mary Magdalen was governed by a vestry divided into two precincts, Landside and Waterside. Five Foot Lane fell into both. Records held at the Corporation of London reveal that some of the land was owned by the Bridge House Trust and that a sewer ran along the road.
In 1826, the House of Commons ordered a report concerning charity. This was charged to investigate charitable donations and directions by individuals by will or testament.
A parishioner of St Mary Magdalen, Owen Clunn, by his Will, dated 22nd August 1563, gave to the use of the poor of the parish of Bermondsey for ever, one messuage [dwelling and outbuildings], one tenement, an orchard and two gardens in Five Foot Lane, together with further property in Bell Yard (off Bermondsey St) to be held by the churchwardens and chief householders of the said parish and their successors for ever…
Clunn directed that rental income buys twelve pence in bread for the poor, every Sunday for ever; and the residue whatever it might be, to be laid out in coals, and distributed between the feasts of All Saints and Christmas, by churchwardens and their successors, and who were thereout to have six shillings and eight-pence, as a repast for their pains.
The same premises appear within parish records in 1620… and again in 1648, where two leases of separate parts of the property in Five Foot Lane, were granted for the term of 61 years, comprising of five houses and premises at a rent reserved at 6 shillings a year. In 1740 the existing lease which had 10 years to run, was purchased by the parish for 20 shillings and the Bermondsey Workhouse was built on the land of what is the modern day Tanner Street Park.
In August 1793, a patent was granted to Mr George Choumert of Five Foot Lane, Bermondsey Street, Surrey. Choumert was a tanner and had invented a machine for cutting, splitting and dividing hides and skins, both in the pelt and after being dressed into leather, for separating the grain from the fleshside.
It was during the 1790's that Five Foot Lane was renamed Russell Street, in honour of the rich and somewhat eccentric Richard Russell of the same parish. We will hear more of him in my next article.
References:
Report of the Commissioners Appointed … to Inquire Concerning …, Volume 16
Further reading
Russell Street, Bermondsey
Tanner Street, Bermondsey